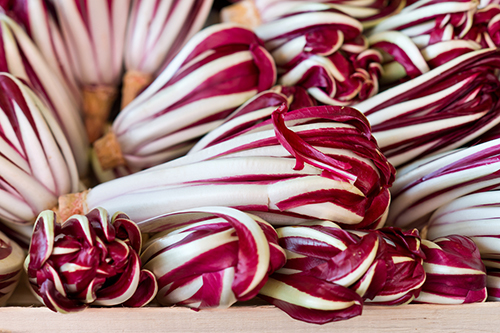 Radicchio is generally available in the winter months. Varieties other than Radicchio di Treviso are also acceptable.
Ingredients (Serves 4):
1 white onion
Rice for risotto—Arborio, Vialone Nano or Carnaroli (1⅓ cups)
Radicchio—the Treviso variety, if possible (1 lb.)
1 pork sausage
olive oil
coarse cooking salt (2 teaspoons)
Parmesan or Grana cheese (to taste)
Preparation:
Peel the onion and cut it into thin slices.
Cover the bottom of a wide pot with olive oil, and place over high heat.
Add onion to the pot, along with a splash of water.
Chop the sausage into small pieces and add to the pot.
Pour in a bit more water, if necessary, and stir.
Allow the contents to cook over a moderate flame while completing the next step.
Remove the radicchio stems, cut the remaining leaves into small pieces, and place into the pot.
Add 2 teaspoons of coarse cooking salt.
Pour the rice into the pot, and once it has absorbed some heat, add boiling water—enough so that the rice can boil and the ingredients do not burn.
Continue to add water when necessary—and remember to continue stirring the entire time the rice is cooking, since it will burn after just seconds at a standstill.
The rice should cook at a boil for 13-15 minutes in total.
Taste the rice to ensure it is fully cooked, then remove the pot from the flame.
Serve, adding cheese to each portion as desired.
Enjoy!